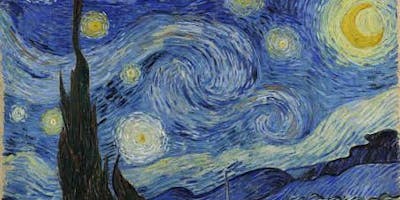 Starry Night IV - Hike, Picnic, and Stargazing
Saturday, June 9, 2018 from 4:00 PM to 10:30 PM (EST)
More Information →
We'll meet at Sky Meadows State Park for a walk up the mountain, picnic supper, and stargazing during June's "Astronomy for Everyone" event.

Sky Meadows is a protected dark sky location. All lights will be off, and there will be no moon. Red filters are required for your flashlights to protect everyone's night vision. Red plastic and a rubber band do the trick. We'll have extra supplies available.

We'll have two hiking options. The Ambassador Whitehouse hike is about 3.75 miles with a gain of 850 feet. The Piedmont hike is about 1.7 miles with a gain of 600 feet. Both hikes include extended climbs and are rated Moderate for this meetup.

We'll set out together and walk a little over a mile, soaking up the beauty and learning a little bit about what we see around us. Then, those who want to do the longer walk will follow Cathy up the Ambassador Whitehouse trail, and those who want to want to do the shorter walk will continue with Sue up the Piedmont trail.

We'll come back together after the hikes, when we'll retrieve our picnic supplies from our cars and have dinner as we enjoy an unobstructed view of the sun going down behind the Blue Ridge. We ask that everyone bring their own chairs, meal, and beverages. If you feel moved to bring something to share as well, that will be lovely, but it's not required. We'll bring a card table for shared items. There are no picnic tables. NOTE: The Friends of Sky Meadows organization plans to be there selling hot dogs, chips, candy, soda, coffee, and tea. Last time, hot dogs were $2, chips, candy, and drinks were $1.

Sunset will be at approximately 8:35 pm. At 8:30 or so, Sky Meadows will begin their "Junior Astronomer" program for ages 5-12. This will be followed by the adult multimedia program and star and constellation tour. In the meantime, local amateur astronomers will be setting up their telescopes, each aimed at some deep sky object of their choosing, and we're all invited to take a look!

Participation in any of the planned activities is optional. You may choose to simply relax on your blanket or chair and appreciate the stars because they're nice to look at. You may need extra layers to stay warm, and it won't hurt to throw a tarp in the car in case the ground is damp.

See the detailed program description at http://www.dcr.virginia.gov/state-parks/park-event-info?id=SK180026-03 . If you like looking at printed sky maps, you can get one at http://www.skymaps.com/downloads.html . Scroll down to Northern Hemisphere, June 2018: Northern Edition. If you like knowing when the sun and moon rise and set, you can print out a monthly calendar for your location at http://www.sunrisesunset.com/.

---------------------------------------------------------------------------------------------------
Restrooms are available.
Cost: There is a $5/car entrance fee.